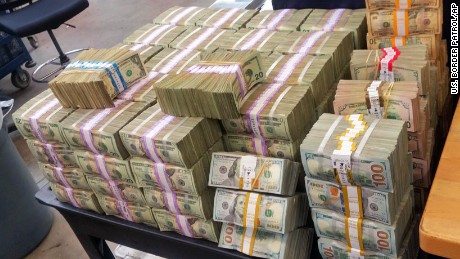 (CNN)Border Patrol agents in California hit a jackpot this week in terms of cash seizures: $3 million.
For the agency that deals with border security, it was a major intercept of smuggled cash. The Border Patrol noted most of its past seizures have been in smaller amounts: $300,000, $51,000 and $43,000.
"This is one of our larger cash seizures," said Ralph DeSio, spokesman for the San Diego office of US Customs and Border Protection. Normally, he said, the big figure reported is the value of confiscated drugs.
The San Diego Border Patrol agents made a dent in the cash flow Tuesday when they arrested two men in Escondido, just north of San Diego and about 40 miles from the Mexican border.
An agent pulled over a Kia Forte and found nearly $34,000 stashed in the console, the agency said. A 53-year-old American was arrested.
Other agents were able to locate a Volkswagen Passat suspected of having driven in tandem with the Kia, the agency said. They arrested the driver, a 41-year-old Mexican national, for suspicion of currency smuggling.
The trunk of the Passat is where they then recovered $3,018,000, the agency said.
The Border Patrol turned over the two suspects to Homeland Security, and they now face federal charges for currency smuggling.
Read more: http://www.cnn.com/2016/08/27/us/san-diego-multi-million-cash-seizure/index.html